Recently the office was visited by Kate Fandry from the Paraplegic Benefit Fund (PBF), to be surprised with a Certificate of Appreciation for FVC.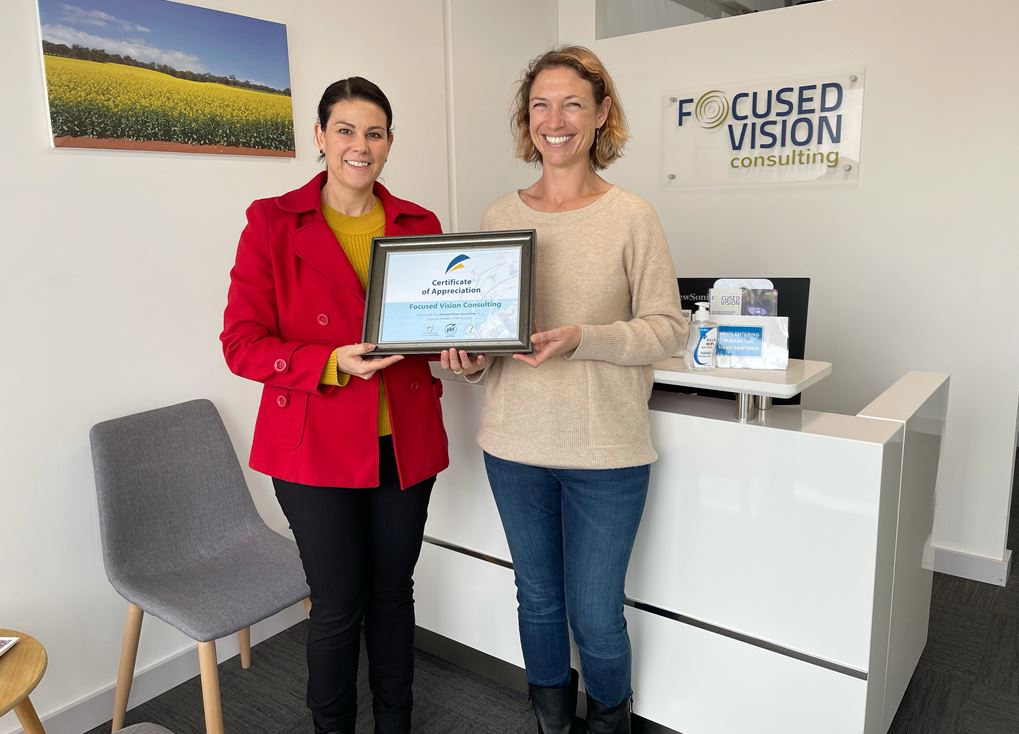 PBF Australia is a National charity dedicated to easing the impact and reducing the incidence of spinal cord injury. Founded in 1984 by world renowned spinal surgeon, the late Sir George Bedbrook, membership of PBF Australia offers crucial financial protection in the event of a permanent traumatic spinal cord injury.
Spinal cord accidents are not restricted to dangerous locations or high-risk professions – they can impact anyone at any time. PBF has considered workplace safety Australia-wide, providing spinal cord injury protection for any industry.
Every day someone in Australia sustains a permanent spinal cord injury; the consequences are life changing. For 35 years PBF have worked to reduce the impact and incidence of spinal cord injuries.
FVC maintains a membership to PBF for all permanent staff and their immediate families. In the event of an tragic accident that results in a traumatic spinal cord injury resulting in permanent quadriplegia or paraplegia the affected FVC staff or family member would receive:
Eligibility to claim $250,000 benefit payment upon sustaining a permanent spinal cord injury*
Cover 24hrs a day, 7 days a week
Not restricted to work activities
There is no excess when making a claim
Your claim is processed as soon as possible after diagnosis is confirmed
Unlike ordinary insurance, the benefit payment is made within weeks of injury when the money is needed most
It is specifically aimed at helping people with the costs of their financial commitments, unplanned expenses, rehabilitation, and specialised mobility equipment purchases while they wait for any potential insurance claims to settle, which can take many years
FVC is proud to support an amazing not for profit organisation like PBF that contributes to importantly to our community.